These Crispy Spicy Tomatoey Chickpea Tacos w/ Pickled Onions are not really Mexican, not really Indian, but definitely have elements from both cuisines. The chickpeas are cooked in a rich spicy tomatoey gravy with cumin and cinnamon and topped with pickled onions, sour cream and cotija cheese. Yum!
I've made these a couple of times and this time I also added a lot of cilantro to the spicy tomatoey chickpea mixture. The cilantro adds a totally different element and I can't decide which version I like best! Both ways are good, but different.
You don't have to fry the corn tortillas but I think these tacos are much better crispy.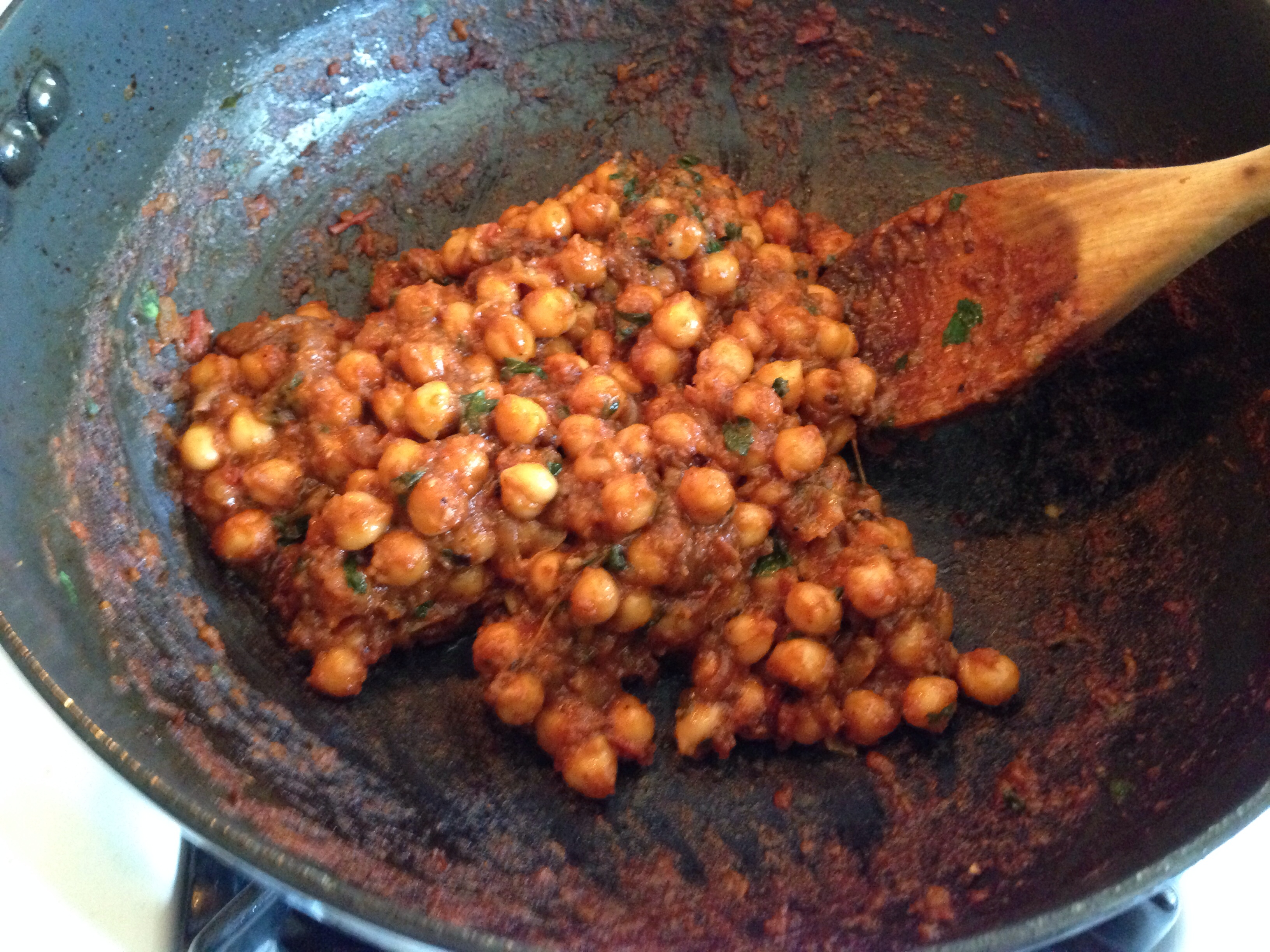 1 red onion thinly sliced
White vinegar
Juice from a lime
1 teaspoon sugar
Salt
Mix the thinly sliced red onions with a few slugs of vinegar, the juice from a lime, sugar and a sprinkle of salt.
While cooking the other ingredients, stir the onions very once in a while.
Spicy Tomatoey Chickpeas
2 tablespoons coconut oil
1 onion thinly sliced
3 garlic cloves sliced
2-3 green chilis chopped (or sub serrano or jalapeño)
1 teaspoon cumin powder
1/2 teaspoon cinnamon
1/2 teaspoon chili powder
1 tomato chopped
2 tablespoons tomato paste
1/2 tablespoon brown sugar
1 can drained and rinsed chick peas (Indo-European brand otherwise check to see of the chick peas are very soft, if not boil in water until very soft)
Salt
1/4 cup cilantro finely chopped (optional)
Heat the coconut oil in a saute pan over high heat and add the onions. Cook until they brown stirring occasionally, a little burnt is good! Take out some of the nicely burnt and crispier onions and set aside. Add the garlic and green chilis and cook for a few minutes. Then add the cumin, cinnamon and chili powder and cook for a minute. Then add the tomato and cook until the tomato is soft. Stir in the tomato paste and brown sugar, then throw the whole mixture into a food processor/mixie or blender with a little water. Blend to a paste, then add back to the pan.
Add the chick peas, the onions that were set aside, 1/2 cup of water, salt and cilantro and cook until the water is mostly evaporated and you're left with chickpeas in a spicy tomatoey gravy.
Chick Pea Tacos
Coconut oil for frying
Corn tortillas
Spicy tomatoey chickpeas
Spinach
Pickled onions
Sour cream thinned with a little ice water
Cotija cheese crumbled
Heat coconut oil in a skillet and fry the corn tortillas folding them in half to make crispy hard shell tacos. Drain on paper towels.
Fill with the spicy tomatoey chickpeas, spinach, pickled onions, sour cream, and cotija cheese. Sprinkle with cilantro.