There are so many ways to make dal and on my blog alone, I've made dal a bunch of different ways. For this post, I am making what is often referred to as tarka dal or dal tadka. Tarka or tadka means tempering, that is tempering your whole spices by frying them in a little ghee or oil and adding to the dish at the end. Tarka can also be done in the beginning, such as when you fry the whole spices before adding the onions, but for dal it is usually done at the end.
I used toor dal, also called tuvar dal or split pigeon peas, but you could also use another yellow dal such as channa dal (split garbanzo beans).
For the tempering, I used mustard seeds and fresh curry leaves in the pictures below. You could also use cumin seeds or a combination of mustard and cumin seeds. I absolutely love curry leaves. In the south, curry leaves are in everything! This was great considering I love them, except the first time I was in India and got a stomach bug. For some reason I could not even look at a curry leave for a week. Thank goodness the feeling past!
If you are nowhere near an Indian market, you can find dried lentils and cumin seeds at the regular super market. Amazon also ships lots of ingredients, even fresh curry leaves
!
Step 1: Gather your ingredients
1/2 to 1 tablespoon ghee or oil (using ghee makes it more rich and restaurant like)
1 onion
2 garlic cloves
1 piece ginger (1-2 teaspoons)
2 green chilis (optional – red chili powder is also in this)
1 tomato
1 cup toor dal
3 cups water
1/2 to 1 tablespoon more ghee or oil
1 teaspoon cumin seeds and/or 1 teaspoon mustard seeds
7-8 curry leaves (optional)
Salt (to taste)
Step 3: Heat ghee or oil in a pressure cooker or medium stockpan
I strongly suggest getting a pressure cooker if you're interested in Indian cooking. It is the best kitchen tool ever! This dal can be cooked in just over 10 minutes! I have a pressure cooker like this one
 that I got in India. You can also use a medium stock pan like this one
, it will just take way longer to cook. Click here for cooking times for various dals.
Step 4: Begin sauteing your onions
Step 5: After a couple of minutes, add your garlic and green chilis
 Step 6: After a couple of more minutes, add tomatoes, turmeric, chili powder, and toor dal
Step 7: Add water
Step 8: Close pressure cooker carefully
If you're not using a pressure cooker, it will take longer to cook your dal. You can cover the pan to avoid evaporation, but it needs to be stirred every once in a while and checked to make sure there is enough water.
Step 9: Open pressure cooker and add salt
Be really careful to not open the cooker until all the steam has escaped! The easiest way to do this is to place the pressure cooker under cold running water and lift the weight slightly to let the steam come out.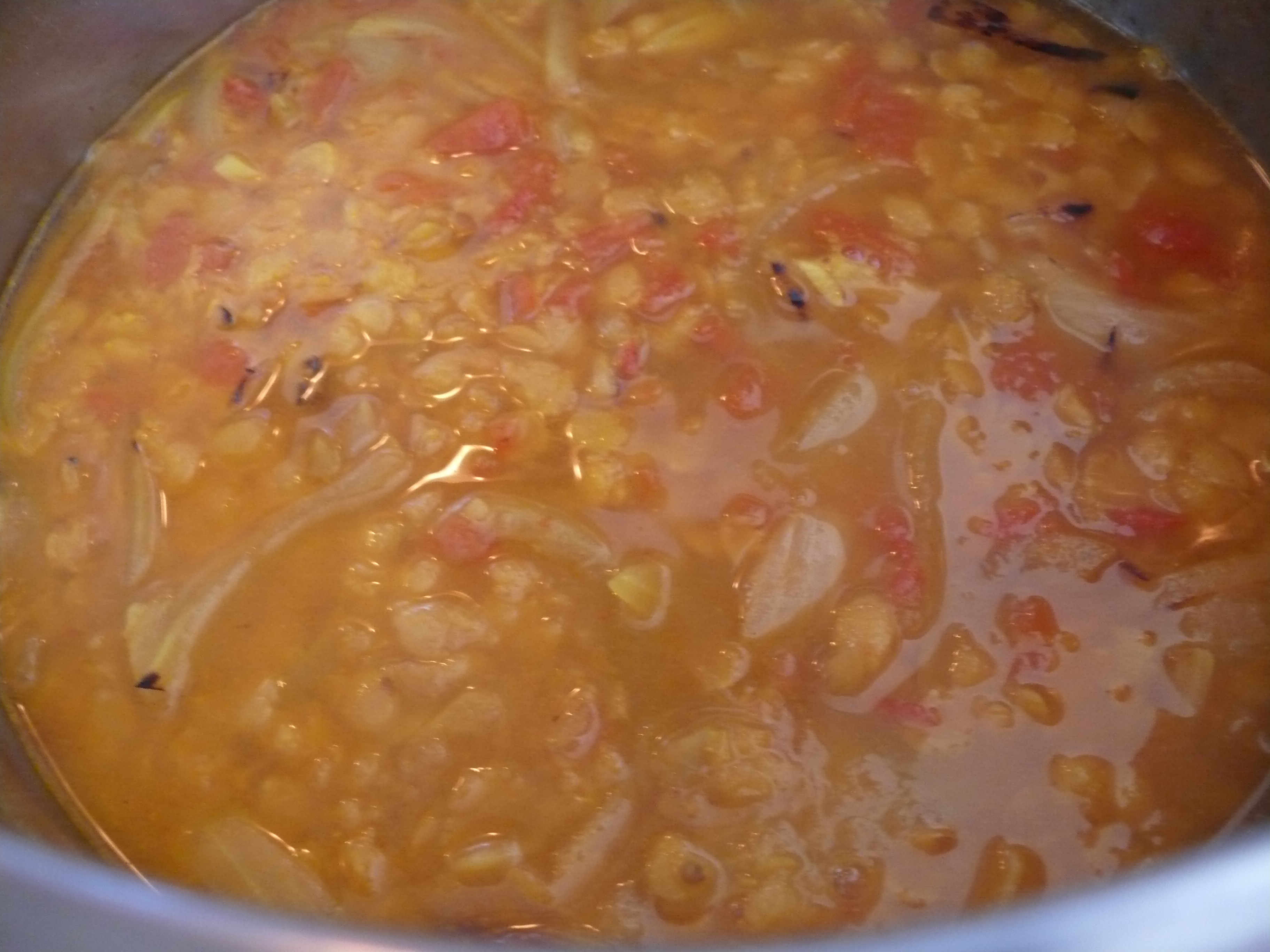 Step 10: Temper your mustard seeds and curry leaves
Heat ghee or oil in a tadka pan or other little pan. Add the mustard seeds and wait for them to sizzle and pop, then add the curry leaves for just a few seconds. Throw into dal. Salt to taste.
Step 11: Throw the mustard seed and curry leaves into the dal and add salt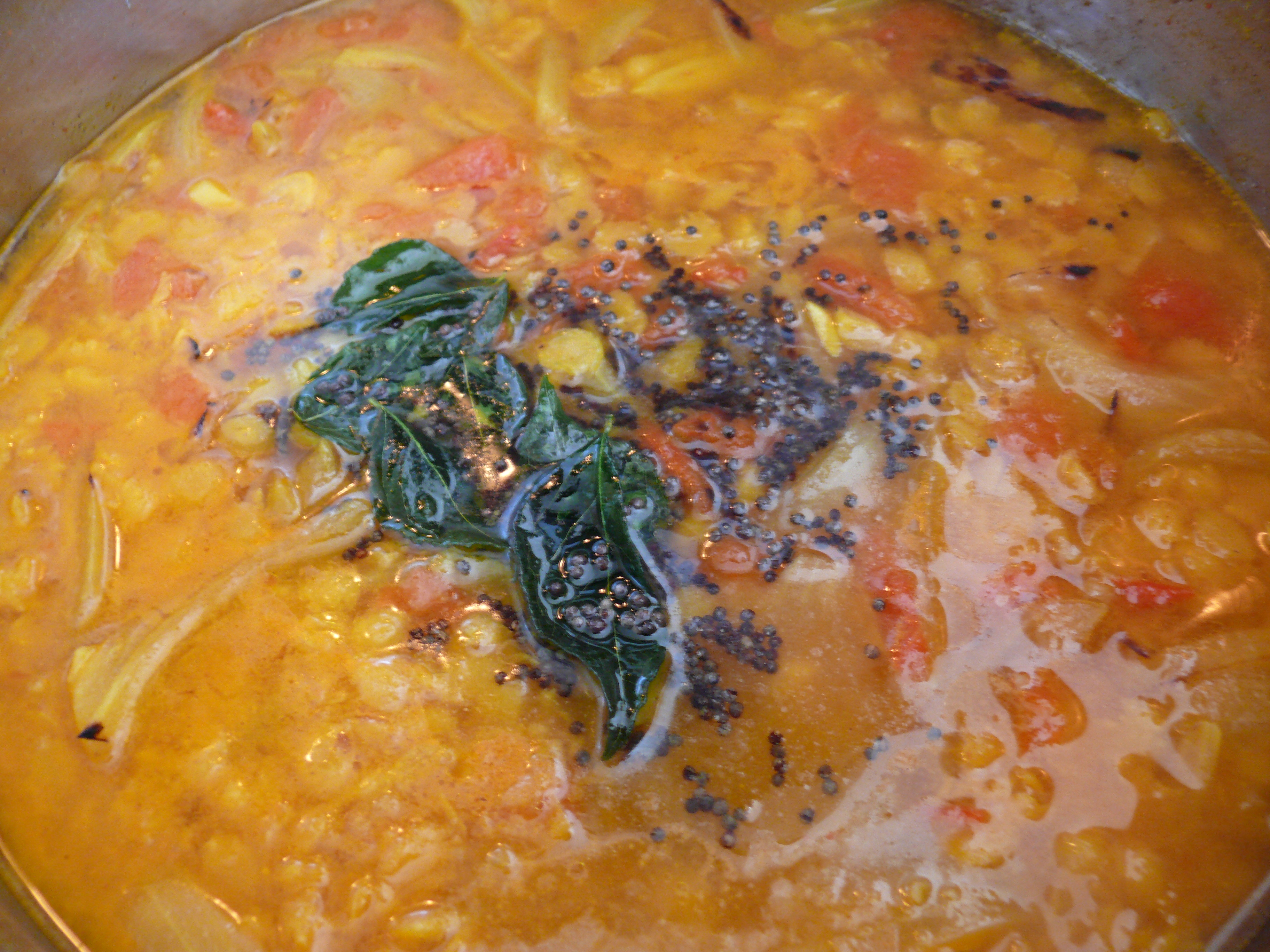 All done!