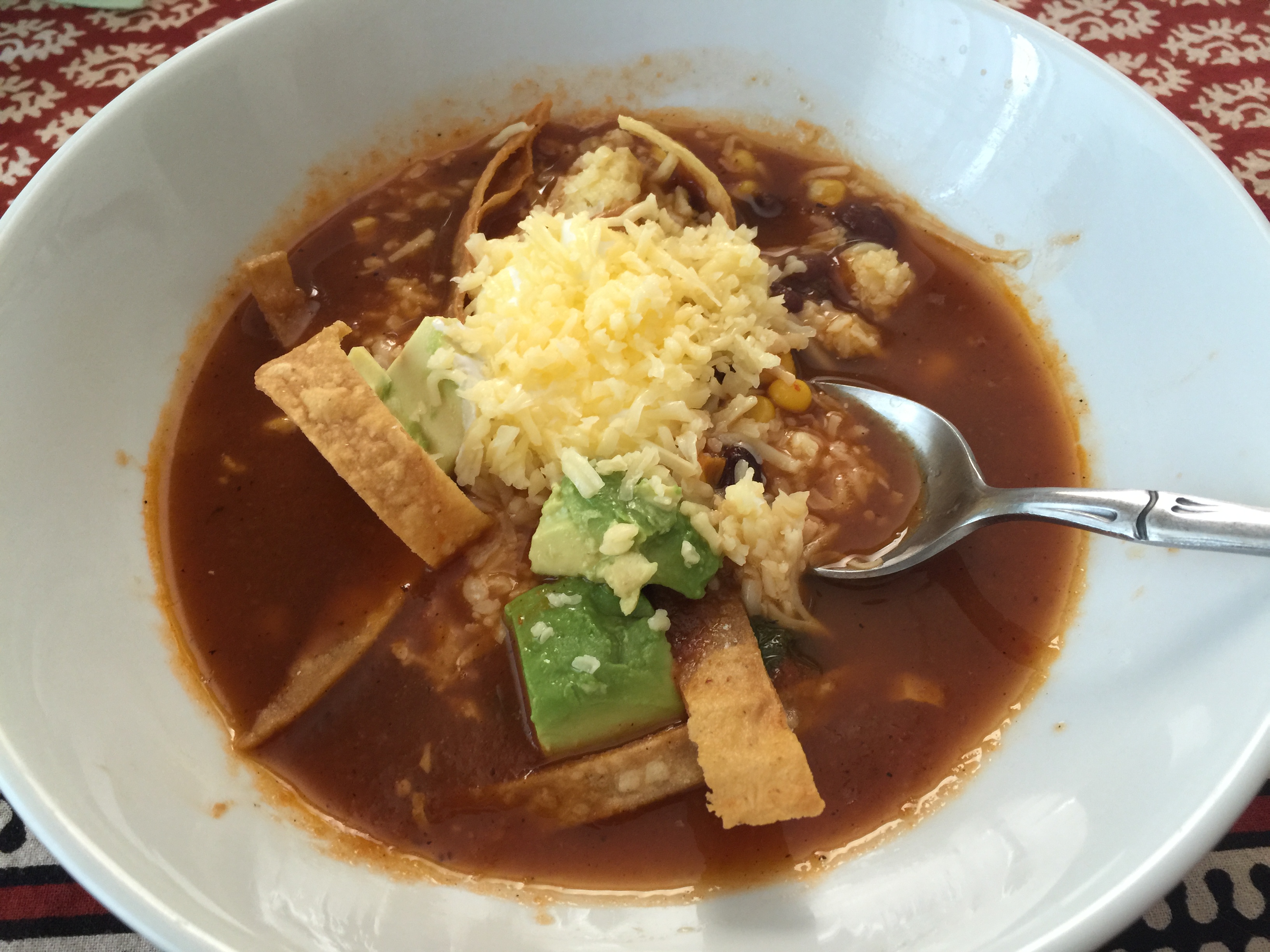 I found such a wonderful recipe for sopa azteca (tortilla soup) from Rick Bayless. You cook blended sauteed onions, garlic and tomatoes down to a paste which gives the broth yummy depth!
We had sopa azteca with tempura sweet potato, goat cheese and pickled jalepeno tacos, a recipe I still need to post!
2 tablespoons olive oil
1 onion sliced
2-3 garlic cloves sliced
1 pasilla negro chili dried
1 can fire roasted diced tomatoes with juice (14.5 ounces)
Water and vegetable bouillion or stock (I used water with a little Better than Bouillon No Beef Base)
A few epazote sprigs (optional – we happen to live across the street from a Mexican market and fount some!)
Salt
1 can black beans drained and rinsed
1/2 pound frozen corn (half bag)
Corn tortillas cut into strips
Oil for deep frying
Sliced lemons
Avocado
Sour creme (I'm a huge fan of Knudsen and not really partial to Mexican crema)
Mexican melting cheese (such as quesadilla or asadero-you can sub monterey jack)
Heat oil in a skillet and saute onion and garlic until translucent. Meanwhile toast the pasilla chili over an open flame just a little. Blend the toasted chili with the onion, garlic and fire roasted tomatoes until smooth. You may need to add a little water. Pour back into the pan and cook down until a paste forms.
In a medium stock pot add the paste, water and vegetable bouillion or stock to get the consistency you like (for this soup, I don't think it should be too thin-the broth has a heft to it without being thick), then add the epazote sprigs and salt to taste. Add the beans and corn and cook to let the flavors meld.
Meanwhile deep fry the tortilla strips, drain on paper towels and sprinkle with salt.
Serve the soup in bowls and squeeze with lemon and top with avocado, sour cream, tortilla strips and cheese!