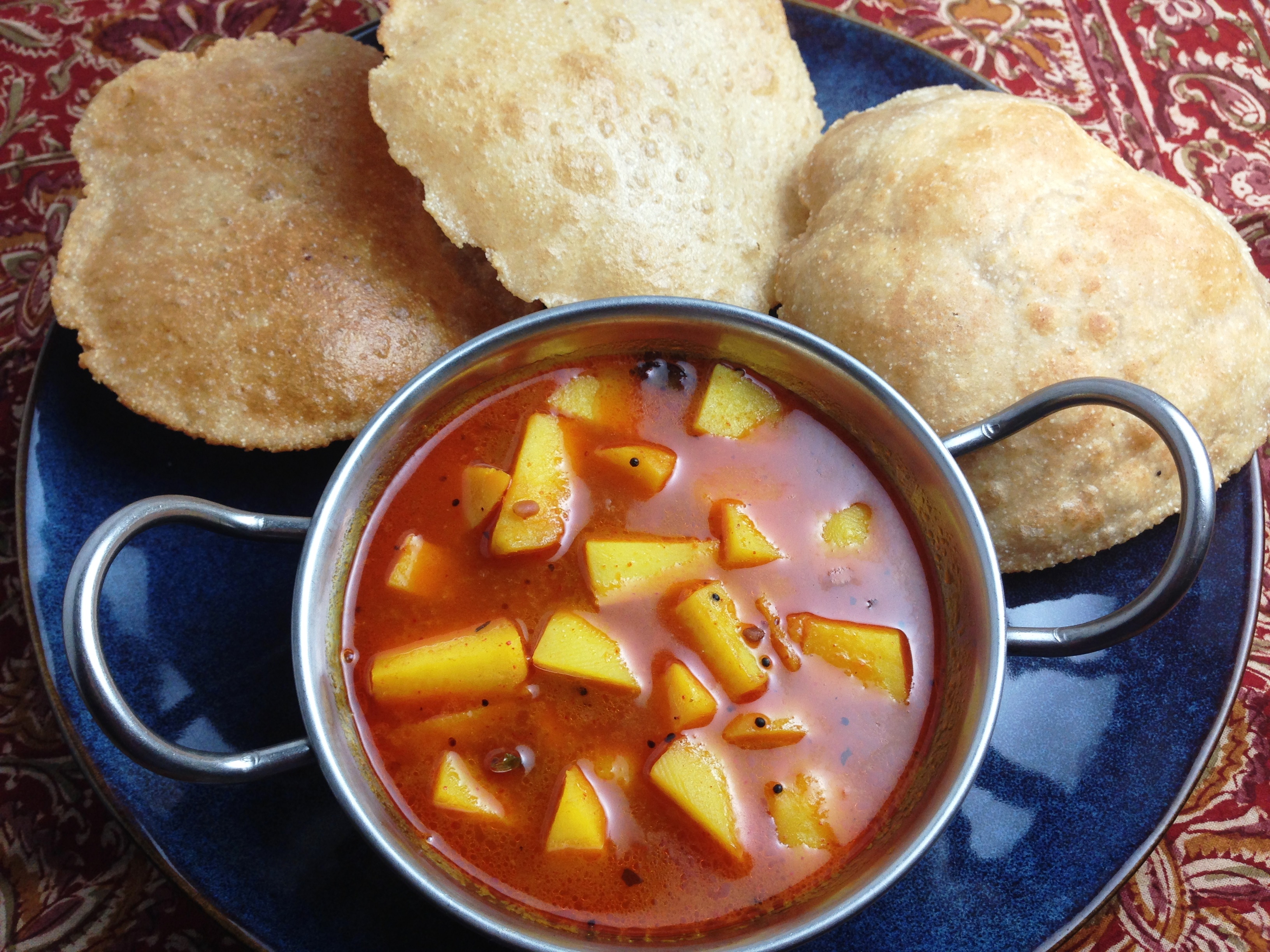 This Gujarati batata nu shaak is a wonderful potato subji (vegetable dish) that is tangy and sweet and full of spices. It goes well with pooris, Indian unleavened fried bread and the combination is often called poori bhaji. It is onion and garlic free like a lot of Gujarati cooking.
I had found a different recipe for Kerala style poori bhaji a while back which I have Pinned and want to make one day and when I mentioned it to Tejas, he said there was a Gujarati version too. Last night a Gujarati version sounded so good so I gave it a go. The recipe I used as a guide is here: maayeka poori bhaji. I also made the stir fried carrots the blogger posted as an accompaniment for poori bhaji and they were to die for! Who knew carrots could be so yummy! I'll post that recipe soon.
I didn't quite nail the pooris (fried flatbread) this time, but loved the potato curry that went with them. In general, I'm not very good with breads so I wasn't surprised 🙂
Don't be put off by the number of ingredients, most are spices and added close together. It's not a lot of chopping or anything.
2 tablespoons olive oil
1 teaspoon mustard seeds
1/4 teaspoon fenugreek seeds
1 tablespoon urad dal
2-3 green chilis chopped
2 cloves
1 piece cinnamon bark
1 bay leaf
A few red chilis
7-8 curry leaves
Pinch hing
4 potatoes chopped into small pieces
1 teaspoon turmeric
1 teaspoon chili powder
1 teaspoon coriander powder
2 teaspoons minced ginger
1 tablespoon natural tamarind paste
2 tablespoons jaggery
3-4 cups water
Salt
Heat oil in a saute or sauce pan and add mustard seeds. Once they start to pop add the fenugreek, urad dal, and green chilis. Once the urad dal starts to brown, add the cloves, cinnamon and bay leave. Last add the red chilis, curry leaves and hing.
Throw in the potatoes, turmeric, chili powder, coriander powder, and ginger and stir for a couple of minutes.
Add the tamarind, jaggery, water and salt to taste and boil until the potatoes are tender and the sauce is a little thickened.
Serve with pooris and

stir fried carrots.